Message from Tony Smith – Chairman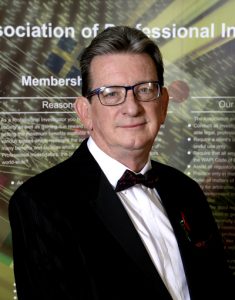 Members,
As your Chairman I find it unusual to prepare a statement 'mid-year' so to speak but I think that 2020 has been something of a year for us all.  When I prepared my last message little did I know what the year would hold in store for us all !!  The World as we knew it has changed and will continue to change I have little doubt.
The practice of Private Investigation is, no matter what some might think, a wholly decent and legal one and has a high use to the Legal system both in the UK and abroad.
Private Investigators can be active in piecing together a defence in a criminal trial or appeal, divorce or residency battles with children, investigations in commerce and industry regarding trade mark plagiarism, industrial espionage, employee theft and absenteeism , the tracing of missing persons or family members. It also can bring peace of mind and satisfaction to those that suffer fraud at the hands of the more nefarious in our society.  There are many more avenues of investigation we follow, but suffice to say there are plenty of things that the modern Private Investigator can legally become involved in.
The current Coronavirus Pandemic, whilst bringing a halt to some activities together with temporary and some permanent changes to the World, has nevertheless only slowed the wheels of justice and not stopped them.  As such we have witnessed the diligence of those PI's that continued to legally trade throughout 2020 and still deliver facts when needed.  The con artists have had a field day targeting their subjects during a long period of lock-down, matrimonial breakdowns have been multiplied during that same period of 'house arrest' and a multitude of problems have surfaced, some we haven't seen before.
At the time of writing, matters are still in a degree of 'flux' and may be heading towards further national restrictions but we will no doubt continue in the vein that we have throughout the year.
I wish all our Members continued success, social distancing, and please 'Stay Safe'.
Tony Smith
Chairman