Message from Tony Smith – Chairman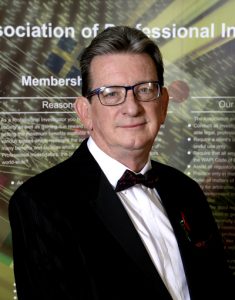 July 2023
Following discussion with the Institute of Professional Investigators (IPI), World Association of Professional Investigators (WAPI) and UK Professional Investigators Network (UKPIN), it gives me pleasure to announce that WAPI have elected to adopt the joint and standardised Code of Ethics and Professional Conduct along with the IPI and UKPIN, as a way forward for the Investigation Sector.
In doing so WAPI, IPI and UKPIN will advise the Information Commissioners Office of the adoption of the Code and this should be held as an Industry standard. Of course, any other Association may also decide to adopt the Code of Ethics & Professional Conduct further strengthening our sector in the current absence of regulation and possible future moves towards it.
Over recent years, the various back and forth discussions, proposals, and attempted side-lining of those that practice in our sector has only aided in fragmenting us, in my opinion. I now feel that the time has come to move forward in a positive and professional way.
November 2022
I am honoured to again have the WAPI Chair for the forthcoming year and thank my Governing Council for their efforts throughout this past year. All have worked tirelessly, and without financial gain, for the Association and for this I am grateful.
I would also like to welcome Dave Edwards to the GC and have no doubt that his input will be valuable and I'm glad to have him on board.
The World Association of Professional Investigators, now approaching its 23rd year, remains a creditable alternative Association for those who wish to 'belong'. We are still a relatively 'young' association when matched with our peer Associations, but I suppose we are doing something right to attain that degree of longevity.
Throughout my time in this industry I've seen many changes but what has remained throughout is the degree of decency and honesty permeating in those that have chosen this profession as a way to make a living. A lack of legislation means that there will always remain an element of untrustworthy participants but they are getting weeded out, mainly due to the diligent work of the Associations as a whole, and until such legislation is introduced we will continue to be vigilant for the sake of prospective clients the general public and the industry as a whole.
Being a WAPI member requires adherence to a Code of Conduct which is strictly enforced. Its not dictatorial, it's common sense and goes a long way to ensure that our Members are decent legal honest and truthful in their conduct. Why not apply for Membership ?., we are open to those who can follow such guidelines and enhance their business, the Association, and the profession as a whole. If however you can't follow an ethical approach to Private Investigation and are just looking for a logo for your letterheads and a plaque for your office wall then, quite frankly, we don't want you.
WAPI is forward-thinking and takes on board suggestions from its members that may improve its standing and benefit its members. We have a Governing Council that is open for any member in good standing to make an application to join and we have no 'cliquish' attitudes whatsoever.
If you are an Investigator who in the past has not shown an interest in joining Associations for this industry, I would urge that you look again at WAPI as a creditable alternative it might surprise you. I would also add that our membership fees are extremely competitive.
Tony Smith – Chairman