WAPI Members Publications
WAPI Members' span the world.  Some members have even published, their skills, and experiences. These are now available for purchase, by Members, colleagues and the general public.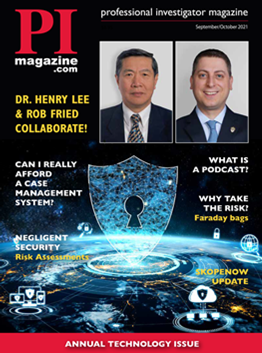 PI Magazine
PI Magazine has a professional editorial staff and graphics design team and utilizes writer and contributors who are well known and established professionals and subject matter experts.
Offering a complete line of services to the professional investigator from the well known and established magazine to high quality equipment sales and reference books.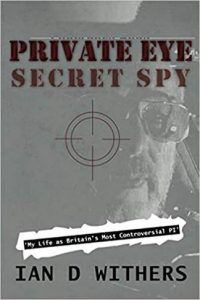 Private Eye Secret Spy: My Life as Britain's Most Controversial PI
Private Eye, Secret Spy: My Life As Britain's Most Controversial PIIAN Withers rewrote the book on what it means to be a Private Investigator.He traversed the world recovering abducted children, gathered intelligence for left and right-wing regimes and was jailed over a British prime minister's bad bet.Across sixty years he chased down fraudsters, bugged leaders of international coups and cracked open assassination plots.
He tracked the IRA's Hyde Park bomber with a bluffed phone call, located Jeremy Thorpe's illicit lover and put his life on the line to return snatched tug-of-love kids to desperate parents.Now, for the first time, Britain's most controversial agent-for-hire lifts the lid on an intense life in the darkest of shadows.Gripping, illuminating and unflinching, Private Eye, Secret Spy is the thrilling true story of a steely English gentleman's rise to the top of his game.
"Ian Withers has walked the walk… a frank, honest and brave confession." Gary Murray, author of Enemies of the State.

The Theory of Covert Surveillance
This surveillance training manual has been compiled as a learning aid, guide and reference book for the surveillance operative – both novice and experienced alike, who is undergoing surveillance or bodyguard training.
​Easy to read and follow, this structured and interactive book covers the very basics to more advanced techniques.  It has been specially designed to test your underpinning knowledge in surveillance methodology & theory in preparation for taking formal NQF qualifications in surveillance or close protection.

Surveillance Tradecraft: The Professional's Guide to Surveillance Training
This new surveillance training book has been compiled as the ultimate guide and reference book for the surveillance operative. There is no other comparable book available in the world today in relation to covert surveillance training.
This book will guide you through the process of carrying out covert surveillance whether you are on foot or by car, traveling by public transport or in a static rural or urban location. The book also teaches the aspects of digital photography using long range lenses and incorporates a large section on Surveillance Detection by Anti and Counter Surveillance methods.
"Surveillance Tradecraft" is recommended reading for the BTEC Level 3 Advanced Award and Advanced Certificate in Mobile & Foot Surveillance and is a must for anyone considering carrying out surveillance training. The manual contains over 470 pages with 500 colour photographs and graphics.

Covert Imagery Photography & Video
This manual is primarily designed for Investigators, Enforcement Officers and Intelligence Operators who use digital stills (SLR) cameras and video cameras in order to obtain photographic evidence. Whether you are new to digital photography or experienced, this book will guide you through the basic principles to advanced techniques to ensure that you can obtain acceptable images taken in low light with telephoto lenses.
This simple to use manual, heavily illustrated will take you through each step in a practical exercise format. You cannot read this book alone, you will need your camera to hand too.
The manual is ideal for those involved in Law Enforcement Surveillance Investigations Intelligence Gathering Journalism Close Protection Security.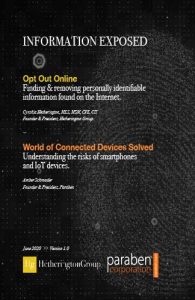 Information Exposed
Surveillance is like gravity. You notice it every now and then but are mostly unaware of its ever-constant presence
penetrating all walks of life, in all areas. Technology today invades every nook and cranny of our lives. Even if you
consider walking through a vast forest—free of wires and Wi-Fi—there are satellites circling the earth that can zoom
in and capture the reflection of your loved one off your sunglasses. That reflected image can be run through facial
recognition software, and that image can be named. No one is free of surveillance, so understanding how to be an
aware citizen and maintain a sense of privacy, certainty, and independence is important.

Berlin City of Spies
The Cold War has not ended and the infamous Stasi Secret Police are working hand in glove with the Soviet Union, their plan . . . . GLOBAL DOMINATION.
Their only stumbling block is undercover agent Jack Stone, a fearless Special Operations Martial Arts expert working for a classified unit nicknamed the Ninja Squad.
Berlin City of Spies is a tale of espionage in Cold War Berlin during the 1970s – 1980s, weaving its way to intriguing events in 2000's.
This fiction book, which includes historical Cold War photographs many of which are taken by the Author himself, is the first in a series involving the lead character – Agent Jack Stone – working for a top secret Government Spy unit. "The Bushido Conspiracy" by Gary Murray is coming soon.
Berlin City of Spies is Espionage Spy fiction with a mix of Cold War, Stasi, Intelligence Services, Undercover agents, Martial Arts, Berlin Wall, Checkpoint Charlie, Soviet Union and much more.

Traitors in the Wind
World War II is the starting point for Traitors in the Wind by Gary Murray where secret agents in the Far East are acting on the Prime Minister's orders to sabotage the Japanese occupation of Batavia.
The story unfolds and spans from the War to present day. Heroic spies of three generations witness first hand espionage, treachery and the Code of Bushido perpetrated by the dreaded Kempeitai Secret Police and Japanese organised crime syndicates.
Berlin City of Spies undercover agent, Jack Stone, returns in Traitors in the Wind to continue the fight against the Stasi Tigers who are still hell bent on global domination.
This fiction book, which includes historical photographs and reference articles relating to Batavia in World War II, is the second in a series involving the lead character – Agent Jack Stone – working for a top secret Government Spy unit.
Traitors in the Wind is Espionage Spy fiction with a mix of Military, World War II, corruption and conspiracy, Stasi, Intelligence Services, Undercover agents, Martial Arts, Japanese Kempeitai Secret Police, Japanese organised crime syndicates, Military Intelligence and much more.

Whisper Not Your Secrets: A Guide to Working as a Government Secret Agent or Confidential Police Informant
Working as a confidential police informant or government secret agent is a highly dangerous occupation, and to survive the many perils requires careful planning and unique skills.
Whisper Not Your Secrets reveals how to successfully operate as a police informant or agent for the Security Services and exposes the issues associated with this type of work and what can befall a secret helper if discovered, along with effective methods of survival.
This book looks at the work of officially employed undercover law enforcement officers and agents working for intelligence units, as well as unofficial civilians working in the shadowy world of secret intelligence or police undercover operations.
Advice is given on various methods of discreetly delivering information as part and parcel of personal trade craft.
There is also guidance on how to deal with handlers and most important of all you will discover how to create, protect and maintain your cover.
The purpose of this book is to educate undercover agents and confidential informants in the art of self preservation, and to assist them in achieving a mutually beneficial relationship with the police or intelligence services. Whisper Not Your Secrets is therefore essential reading for anyone contemplating such work.

An Introduction to Judo
Written to answer the beginner's basic questions, An Introduction to Judo, provides comprehensive information about this Japanese Martial Art.
5th Dan black belt Gary Murray outlines Judo's relevance to everyday life, not only as a method of self defence, but also as a way of improving health and developing personal awareness confidence and discipline.
Other aspects covered include:
– How Judo is taught and learned
– History and philosophy
– Basic principles and techniques
– Differences between traditional and sport Judo
– Advice of finding a club and instructor
In the 21st Century, martial arts world-wide have combined to create a multi-million dollar industry. Annual subscriptions, the sale of equipment, as well as government financial aid has resulted in colossal amounts of money changing hands every year. Unfortunately, this trend has encouraged a severe degradation of the fundamental principles of certain martial arts, with a modern emphasis directed to winning sporting tournaments. According to Judo Master Sakujiro Yokoyama ?If you practise Judo as a sport you are making a big mistake?
An Introduction to Judo examines the creation and expansion of one of the world's most popular Japanese martial arts. By explaining the traditional aims and philosophy of the founder, Dr Jigoro Kano, the Author hopes readers will appreciate that the ultimate aim of the art of Judo (the Gentle Way) was never intended to be success in sporting tournaments, rather the development of the character of its participants.

An Introduction to Budo Self-Defence for the 21st Century
Written to introduce readers to a combat art created by Japanese Samurai Warriors of old, An Introduction to Budo Self Defence provides information on this ancient system of personal protection in modern times.
Author Gary Murray is a Martial Arts teacher qualified to black belt rank in several disciplines including Judo, Ju-Jitsu, and Karate and as such has always adopted a traditional non-sporting approach to his teaching.
Aspects covered include: Philosophy and benefits of practising a Budo art – Facing self defence situations – Basic principals and techniques – Difference between sport and traditional Budo – Dojo Etiquette