The Process Servers industry has been eagerly awaiting the publishing of the new British Process Servers Guide.  Written by Stuart Withers, Helen Withers and Jorge Salgado-Reyes, the guide is the offspring of the old yet respected NIG Process Servers Guide 2000.  Available to PRE-ORDER from Amazon now.  The guide is due out on or near the 1st September 2012.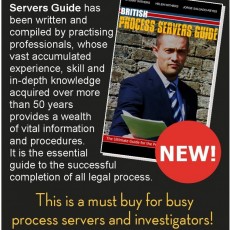 The British Process Servers Guide has been written and compiled by practising professionals, whose vast accumulated experience, skill and in-depth knowledge acquired over more than 50 years provides a wealth of vital information and procedures. It is the essential guide to the successful completion of all legal process. Includes all relevant Woolf Reforms, detailed explanations of rules and procedures, contains example affidavits and statements of service for all process in the UK and abroad Detailed explanations of Civil Procedure Rules where relevant High Court Process County Court Process Magistrates' Court Process Children Act 1989 Bankruptcy Divorce Process
This is a must for busy process servers and investigators! The British Process Servers Guide has been rewritten and updated to reflect the changes made to the Civil Procedure Rules and Court Procedure since the highly successful and original Process Servers Guide 2000 was written and published by Nationwide Investigations Group. The Civil Procedure Rules (CPR) were introduced in April 1999 following a report on the state of civil justice carried out by Lord Woolf. Formerly practice in the High Court was governed by the Rules of the Supreme Court (RSC) and practice in the County Court by the County Court Rules (CCR). The CPR incorporate one code of civil practice for both the High Court and the County Court. However, many differences in practice between the High Court and the County Court have survived the introduction of the CPR. This is because large chunks of the RSC and the CCR have been re-enacted as schedules to the CPR. The surviving parts of the RSC have been re-enacted as Schedule 1 to the CPR. The surviving parts of the CCR have been re-enacted as Schedule 2 to the CPR. The two most commonly used practitioner texts on the Civil Procedure Rules are "Civil Procedure", familiarly known as The White Book and published by Sweet & Maxwell, and The Civil Court Practice familiarly known as The Green Book and published by Butterworths.
The Civil Procedure (Amendment) Rules 2011 came into force on the 6th April 2011. This guide has been updated to reflect those changes in the CPR. This guide will be further amended as the rule change in the future. As a practising process server, I have always wished to have a ready reference to the rules on my iPhone. For this reason, The British Process Servers Guide will be published in electronic format (Kindle) for easy reference on your Kindle, Kindle app (iPhone/iPad2), Kindle for Android, Kindle for PC & MAC as well as published as a paperback on Amazon.