I am pleased to advise/confirm that my Memoirs were finally published in April 2021 under the title of "PRIVATE EYE, SECRET SPY"
Both Hardcover and Paperback versions plus Kindle are available from Amazon, or through https://wapi.org/members-publications/
For 'signed' copies – email me directly – (ian @ pilimited.com) Hardcover GBP20 + 4.00 Postage (UK) Paperback GBP10 + 3.40 Postage (UK).
The book covers my 60 years in practice in the investigative sector, and the many pitfalls of the sixties and seventies.
My seven years as National Security Adviser to the Seychelles Government, as well as various sensitive Northern Ireland Cases.
PRIVATE EYE, SECRET SPY has received extensive positive feedback from readers in the UK, USA and Australia.
Many of you out there will also have incredible 'war-stories' and hopefully my published Memoirs will motivate many of you to put pen to paper?
Ian (D. Withers)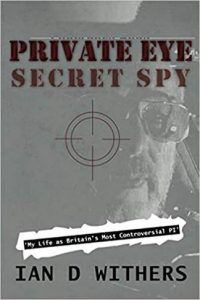 IDwithersPI – The Book!
Private Eye, Secret Spy
Available from Amazon